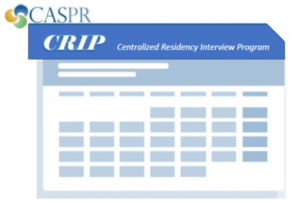 2024 CRIP & Residency Interview Scheduling Information for Programs
Per CPME requirements, "interviews must not occur prior to, or be in conflict with, interview dates established by the national resident application matching service with which the residency program participates." CASPR has set the following dates for interviews.
The CRIP (Centralized Residency Interview Program) in-person residency interview event is scheduled for January 11-16, 2024 at the Embassy Suites in Frisco, TX.
CRIP is divided into Section 1 and Section 2.
Section 1 programs (West) interview January 11-13, 2024.
Section 2 programs (East) interview January 14-16, 2024.
Interviews may be scheduled between 8 am and 7 pm each day with the exception of Saturday when the last time an interview can be scheduled is 1 pm.  Programs and other organizations may host social events in the evenings.
Programs not interviewing at CRIP may interview applicants from January 17 through February 16, 2024.